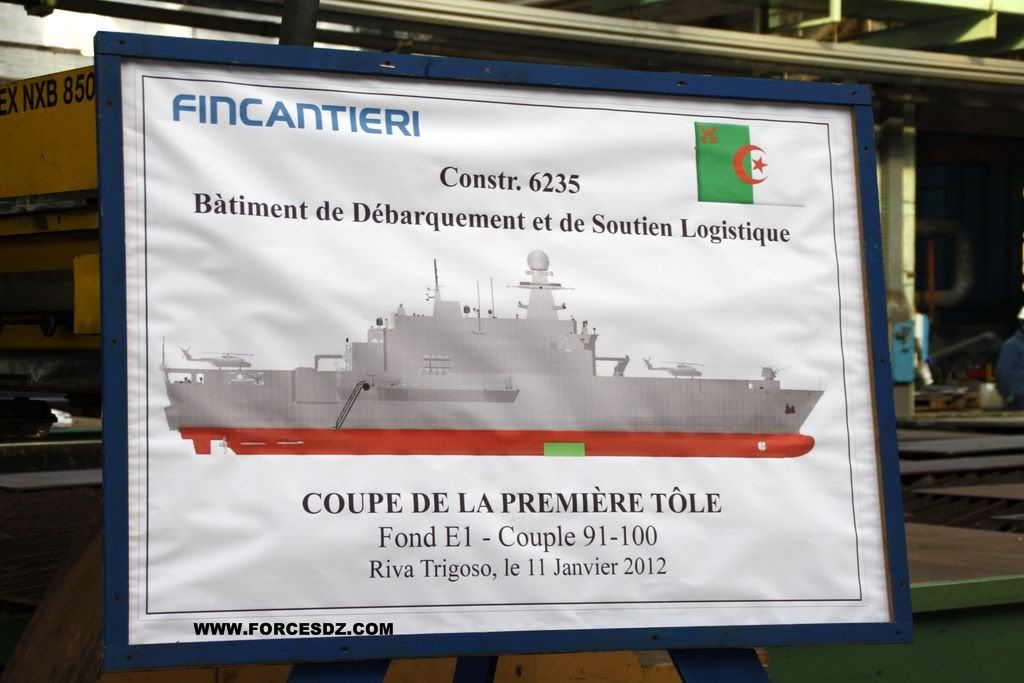 He encontrado imagenes del corte de las primeras secciones de las planchas de acero del casco del futuro LPD argelino

Fotos gracias a: http://www.forcesdz.com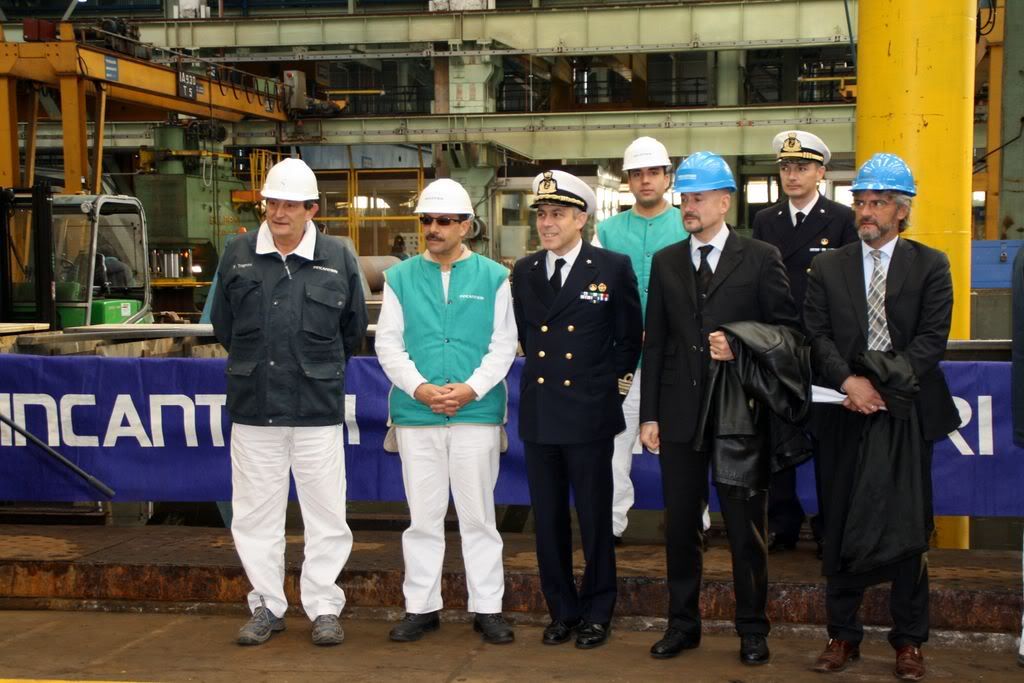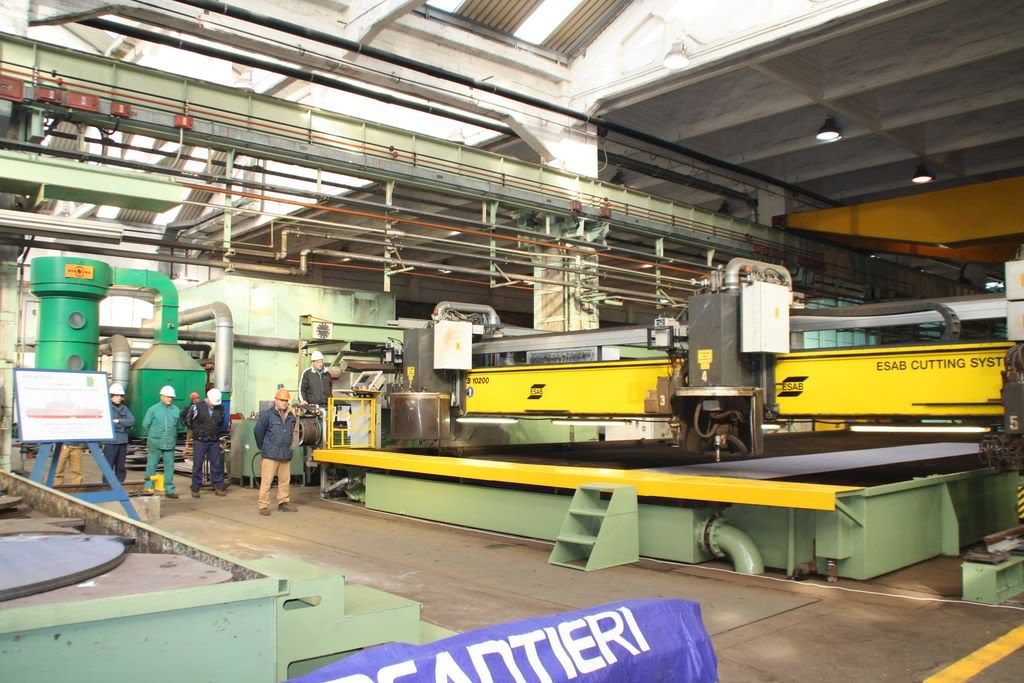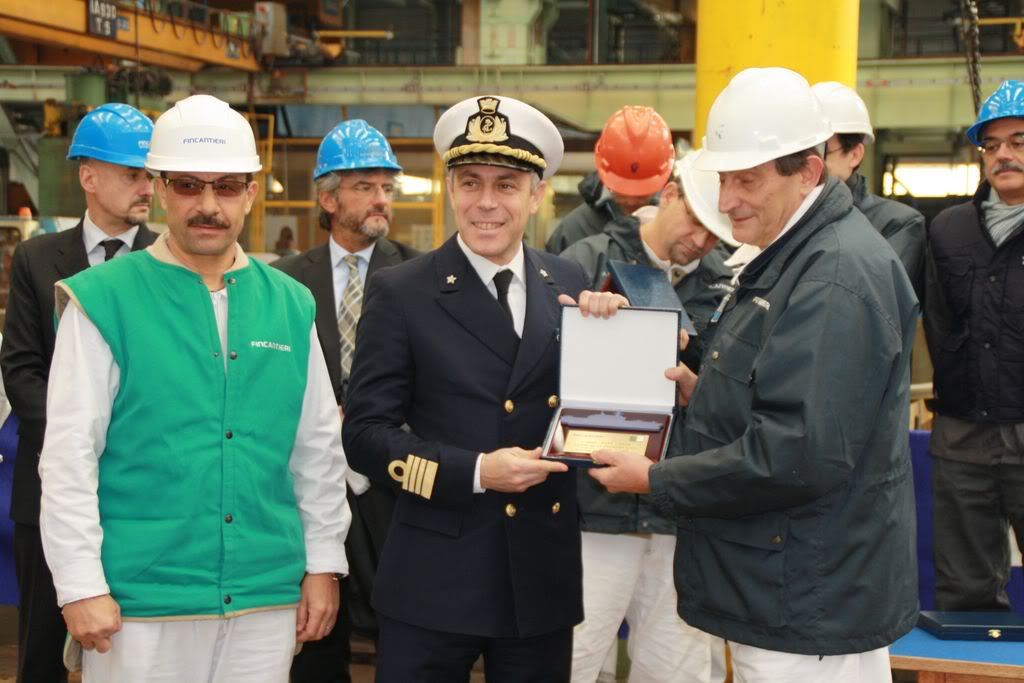 Según se desprende, una posible configuración definitiva puede ser la siguiente:
BDSL (Bâtiment de Débarquement et de Soutien Logistique) :
-Total displacement = 8800 tons

-Length = 142.9 meters

-Width = 21.5 meters
-Flight deck with two runways and landing pads for heavy-lift helicopters in the extremities and 30-ton lift in the central part of the deck
-The power plant includes two diesel engines Wärtsilä 12V32 rated at 6000 kW

-The maximum speed = 20 knots

-Cruising range = 11,265 km
-Generation of electricity will be provided by four diesel generators Isotta Fraschini V1716 C2ME capacity of 1300 kW and one emergency V1708 T3 of 600 kW
-Armament includes MBDA SAAM-ESD (Aster missiles + A50 launcher Sylver) behind the island superstructure + Oto Melara 76/62 Super Rapid + 2 Single -25mm KB
-The electronic structure will include Selex Sistemi Integrati EMPAR + AESA radar of CICS Athena-C + navigation radar and flight control by -gosopoznavaniya SIR + Communication system supplied by Selex Elsag + EW systems produced by Elettronica and Thales + two SCLAR-H decoy launchers
-The Algerian helicopter landing ship dock can accommodate 3 Landing Craft Mechanized (LCM) + 3 small Landing Craft Vehicle Personnel (LCVP) + 1 large Landing Craft Personnel (LCP) + 2 semi-rigid boats. The garage can accommodate up to 15 armored vehicles.
-The crew = 150 people

-The landing force = 440 people

-The launching of the ship is scheduled for December 2013, with the transfer to the Algerian Navy in September 2014.
En una prosima entrega colocaré un Form actualizado a estandar de Harpoon
Indice:
Parte (I)